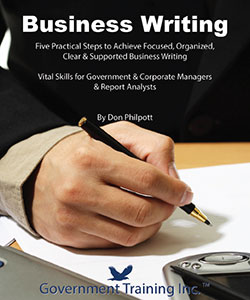 Business Writing
Five Practical Steps to Achieve Focused, Organized, Clear & Supported Business Writing


By Don Philpott
Published by Government Training Inc.
Oct 2012

ISBN: 978-1-937246-49-5

---
Book Review: Business Writing
Effective business writing skills are an essential requirement for every manager or supervisor. Like other managerial requirements, effective business writing needs clear, strategic thinking.

You must be able to accurately identify the issues to be addressed, communicate your thoughts clearly to the intended audience and motivate that audience to take the actions you propose in order to resolve those issues. It is all about effective communications. The essence of good business writing is: keep it simple, keep to the point and keep it short. Remember the Three Cs – Clear, Complete and Concise.

Good business writing is a lot like packing well for a vacation. Most people only wear about one third of the clothes they take and the rest is literally unnecessary baggage. The secret of good packing – and good business writing – is to include only what you need.

Communication skills are particularly important for managers. The ability to communicate a vision and direction, to motivate and inspire others, and to persuade your superiors are all essential in bringing people together to achieve a common goal.

If the purpose isn't clear to the audience, you have failed. Worse still, if there is confusion people may take actions which are actually counter to what you intended. This could have dire consequences.

The only way to become a better writer and speaker is to work at it – there are no short cuts. Your communication skills will become stronger with practice, regardless of your initial ability.

This handbook will guide will teach you the secrets of successful business writing. It uses an easy to follow five-step process that includes proven and effective communications skills and techniques, both written and oral.

There are guidelines on writing attention-grabbing speeches, presentations and reports. It covers effective public speaking including delivery formats and the use of visual ideas, and gives you the inside scoop on how to handle the media.

If you are an experienced senior manager or still on the first rung of the promotion ladder, you will find this handbook a must-have resource. It will enable you to become a better business writer and communicator and, as a result, a better manager.

---
Fee:
Category
Book Price
S&H
Total
Federal, DoD, State,Local Government
(Must have gov't email address)
$54.50
$9.50
$64.00
U.S. Corporate and NGO
$59.50
$9.50
$69.00
International
$59.50
$50.00
$109.50


OR





For quantity purchases of 5 or more, please contact Customer Service at 941-306-7968 or Book.Service[at]GovernmentTrainingInc.com