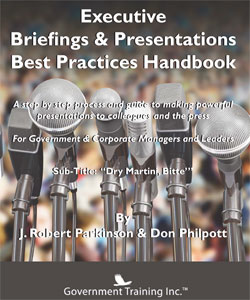 Executive Briefings & Presentations
Best Practices Handbook
Sub-Title: "Dry Martini, Bitte"

By J. Robert Parkinson & Don Philpott
Published by Government Training Inc.
Jan 2011

ISBN: 978-0-9832361-1-5
162 Pages



---
Listen to a Brief Intro of Executive Briefings & Presentations Best Practices Handbook
(6.31 Mins)
Book Review: Executive Briefings & Presentations
Best Practices Handbook A five-step process and guide to making powerful presentations to colleagues and the press
For Government & Corporate Managers and Leaders

Effective communications is all about getting the right message across to the right audience at the right time in order to get maximum impact. Many politicians and business people have mastered this skill and developed it into an art form and that is one reason they are so successful.

The techniques they use, however, can be learned. That is what 'Dry Martini, Bitte' is all about. Once you have learned these skills you will be able to make effective, attention-grabbing presentations. You will be able to lead successful meetings, chair discussions, give media interviews and be confident in knowing that what you are saying is being both heard and understood.

The title of the book illustrates how difficult communications can sometimes be. The author was in a hotel in Germany – after conducting a communications seminar – and ordered a dry martini. The waiter returned with three martinis because he heard him say 'drei' - the German word for three – and not 'dry' as intended. It was a powerful example of a communication breakdown.

This book is designed to prevent such communication snafus. It provides solutions to the problems many presenters and communicators encounter every day. It is filled with specific techniques and skills which will take much of the anxiety out of presenting material to groups or individuals whether face-to-face or through print or electronic media.

Most people fear – sometimes even hate – making presentations. Because we want to perform at our highest level we put pressure on ourselves, and that results in "nerves". The other reason for fear is that many people simply do not know what to do because they have never learned the necessary skills and techniques. So, they just push ahead and do the best they can.

This book will teach how you to develop a plan so that you know what to do, what to say and how best to say it. These techniques will stand you in good stead whenever you need to communicate whether it is in the office or in front of millions of people during a live television interview.

The book will teach you how to develop presentation skills so that you grab the audience's attention from the very first moment. It also discusses in great detail how to make maximum impact using posture, hand gestures, eye contact and all the other factors that come into play when successfully communicating with others.

There are also chapters on how best to perform on radio and television, what to say and what not so say and how to get your message across even with a hostile interviewer. Other sections on communicating with the media include writing press releases and holding press conferences.

If you lack communication skills and want to become a great communicator, you need to read Dry Martini, Bitte.
---

Fee:
Category
Book Price
S&H
Total
Federal, DoD, State,Local Government
(Must have gov't email address)
$54.50
$9.50
$64.00
U.S. Corporate and NGO
$59.50
$9.50
$69.00
International
$59.50
$50.00
$109.50


OR





For quantity purchases of 5 or more, please contact Customer Service at 941-306-7968 or Book.Service[at]GovernmentTrainingInc.com