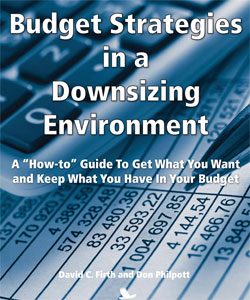 Budget Strategies in a Downsizing Environment
A "How-to" Guide To Get What You Want
and Keep What You Have In Your Budget


By David C Firth & Don Philpott
Published by Government Training Inc.
Jan 2012

ISBN: 978-1-937246-63-1

---
Book Review: Budget Strategies in a Downsizing Environment
The budget process is about to change – radically. Nothing like this has ever been seen before. Up to now the convoluted process that involves literally thousands of people and which has traditionally spawned only incremental changes is about to go off a cliff.

The Presidential-appointed Super Committee on Deficit Reduction was tasked with finding $1.5 trillion in savings over the next 10 years. They failed. Now sequestration kicks in. This means automatic reductions of $55 billion each from both defense and non-defense accounts every year from 2013 through 2021. This equates to $495 billion from each account.

These cuts are piggy-backed on top of mandated cuts from the Budget Control Act of 2011, which whacked the discretionary baseline to 2021 by $840 billion. The Office of Management and Budget has already returned the 2013 budgets to each agency with instructions to find 10 percent in savings over fiscal year 2011 funding levels. No longer will it be sufficient to tweak here and reduce there to save a few dollars. Now there are entire programs and full activities/offices that will have to go by the wayside. The choices will be severe and they will not be easy. Federal agencies have never before faced such a multi-year pullback.

The common thread uniting the 300+ executive and state agencies which receive funding through the appropriation process boils down to one question: How do I keep my money and, if possible, add to it?

A very timely and insightful new book Budget Strategies in a Downsizing Environment , answers that question. It explains in a concise and engaging way, the emerging budget scene and what budget planners and managers need to know and do to respond effectively to budget reductions in a downsizing environment.

It details effective techniques to formulate, defend and execute an operating budget in the new austere funding environment. The book provides checklists and "how to" guidelines for you and your program managers to build a defensible budget compliant with the new requirements for appropriations requests.

The tools provided, the strategies presented are of high value to federal, DoD, state, local and education budget planners.

You will acquire tools to request funding by object class, full-time equivalents and program outcomes. You will learn about the importance of documenting performance measurement and strategic planning as the keys to support a mission-driven funding request. And as a result, you will be able to justify your programs and possibly increase your funding consistent with the economic policies of the president, Office of Management and Budget, Congress, and the Joint Committee on Deficit Reduction.

Whether you are tasked with creating budgets or overseeing them, this is a must-have book that will give you and your agency just the edge it may need to get a bigger share of the shrinking federal budget.

---
Fee:
Category
Book Price
S&H
Total
Federal, DoD, State,Local Government
(Must have gov't email address)
$54.50
$9.50
$64.00
U.S. Corporate and NGO
$59.50
$9.50
$69.00
International
$59.50
$50.00
$109.50


OR





For quantity purchases of 5 or more, please contact Customer Service at 941-306-7968 or Book.Service[at]GovernmentTrainingInc.com