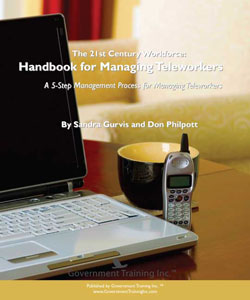 Handbook for
Managing Teleworkers
A Five-Step Management Process
for Managing Teleworkers

By Don Philpott & Sandra Gurvis
Published by Government Training Inc.
May 2010

ISBN: 978-0-9844038-2-0
212 Pages



---
Book Review: Handbook for Managing Teleworkers
(A Five-Step Management Process for Managing Teleworkers)


If you are a teleworker, a teleworker manager, a federal agency implementing telework or a major company considering it, this is a must read book . While teleworking has started to gain traction, especially at federal level, there are still many myths surrounding it as well as concerns from senior managers who fear loss of control over staff not working in the office.

The Handbook for Managing Teleworks puts to rest the myths and explains that teleworkers tend to be more productive than office-based workers. It also explains why teleworking is not just important for millions of employees; it is the wave of the future.

The back-to-back blizzards that hit Washington, DC, in February 2010, illustrate perfectly why teleworking is critical. Following record snowfalls, more than 230,000 government employees were ordered to stay at home as the nation's capital virtually shut down for a week. Each snow day cost the government an estimated $100 million in lost productivity and related costs. And if you factor the total expense of lost productivity in the commercial sector, the figures are even more staggering.

This book is an A-Z guide aimed at managers tasked with introducing teleworking or overseeing teleworkers and ensuring that everything runs smoothly. The rules for managing teleworking are the same whether you are a federal or state employee or work for a private company or organization. The book is also very useful to people who are thinking of teleworking or trying to persuade their employers to introduce it.

The guide starts with an overview of what teleworking is, why it was introduced and what the current situation is. It then takes you through an easy to understand Five-Step Process to determine whether teleworking is right for your organization and, if so, how best it can be implemented.

Step One gives you the tools you need to decide whether your organization needs teleworking. It looks at the jobs suitable for teleworking, the benefits and the technology needed to make it happen.

Step Two focuses on putting together a teleworking team. This includes successful strategies for telework programs, creating guidelines for managers and employees, writing telework agreements and selecting the right people. There are also important sections on safety, security and the legal rights of teleworkers.

Step Three is all about organization – getting together a winning game plan. In addition, there is information about training and setting up a continuity-of-operations plan to maintain essential functions in the event of a major disaster.

Step Four covers implementation – how you make it all happen. In addition, there is guidance on insurances, taxes and health care options and how they impact teleworkers.

Step Five discusses maintenance – now that you have set up your teleworking program what do you have to do to ensure it runs smoothly.

The authors – both teleworkers - have drawn heavily on authoritative materials published by a wide range of federal agencies and organizations to provide case studies and best practices. The wealth of practical information is organized into an easy to follow, high value 5-Step process that provides an invaluable resource to telework managers and teleworkers alike.

Our Readers Speak…

Quote: This is perfect. Our agency has just made a major commitment to telework - but had not put in place a management plan to support this decision. Your five-step process is excellent. Gives us a management framework and a process that can be easily followed by manager and teleworker alike.

Quote: Thanks for your book. We found the templates and Five-Step process to be of highest value. Sandra really understands the opportunities and pitfalls.

Quote: We have teleworkers scattered all through our organization. None of the managers believed it was working. It wasn't until we implemented your plan that we began to see the problems and areas where teleworking was working.

Quote: Your use of highlighted text made reading the book easy and fun.

Fee:
Category
Book Price
S&H
Total
Federal, DoD, State,Local Government
(Must have gov't email address)
$54.50
$9.50
$64.00
U.S. Corporate and NGO
$59.50
$9.50
$69.00
International
$59.50
$50.00
$109.50


OR





For quantity purchases of 5 or more, please contact Customer Service at 941-306-7968 or Book.Service[at]GovernmentTrainingInc.com