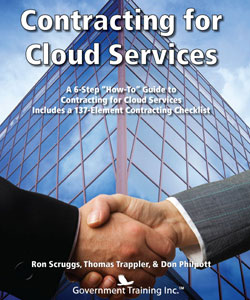 Contracting for
Cloud Services
A Six Step Approach for
Contracting Cloud Services
Covers the Full Contract Life Cycle
Checklists, Sample Terms, Traps to Avoid

By Ron Scruggs, Thomas Trappler & Don Philpott
Published by Government Training Inc.


ISBN: 978-1-937246-67-9




---
NEW:

THOMAS TRAPPLER named "CLOUD LUMINARY"

Thomas Trappler, co-author of the book Contracting for Cloud Services published by Government Training Inc, has been named a "Cloud Luminary" by CA Technologies. Cloud Luminaries are thought leaders on the leading edge of the cloud computing trend. Thomas Trappler is honored to join the distinguished group of individuals holding the "Cloud Luminary" title, including Vivek Kundra, Nicholas Carr and Timothy Chou.

Homeland Security Moves To Cloud through GSA IaaS BPA

This week marked a major GovCloud event with the Department of Homeland Security's decision to adopt cloud computing through the General Services Administration's Infrastructure-as-a-Service blanket purchase agreement. Mary Davie, Assistant Commissioner, GSA Office of Integrated Technology Services (ITS), announced this step-change in Federal IT through a blog post on Friday: "I'm thrilled to announce that the Department of Homeland Security has awarded the first task order using GSA's Infrastructure as a Service (IaaS) Blanket Purchase Agreement (BPA). DHS is consolidating and migrating many of its primary public websites to the cloud to reduce costs and comply with the Administration's Cloud First policy.
Book Review: Contracting for Cloud Services
The federal government is expected to spend $75 billion this year on IT projects, with a significant part of that money earmarked for migrating services and programs to cloud computing. Therefore, the publication of this book on cloud computing contracting for government could not be timelier.

Over the last 10 years the federal government spent more than $800 billion on IT, and even its own watchdogs report that much of this money was wasted. As federal agencies are now tasked to move to the cloud, it is essential that IT and project managers – and their supervisors – fully understand why they need to change the way they do business with vendors, especially when it comes to writing the contracts.

The growth in cloud services is exploding, but procurement contracting has not kept pace. As a result, most people required to write cloud contracts for their agency or organization have a steep learning curve to navigate. This book will help them do it.

This comprehensive, expert book uses an easy-to-understand, easy-to-follow six-step process that guides you through the complete contract lifecycle. It steers you through all the cloud service and deployment models available, highlighting the benefits and downsides of each.

Discussed in detail are critical issues, such as security, vendor lock-in, and legal and regulatory obligations. The book discusses how to identify and determine your needs in order to develop a business use case. It defines all the potential procurement vehicles and processes and how to assess them. There is guidance on setting up an acquisition team, developing performance-based work statements and how to measure and manage performance.

Included in this book is a 137 element checklist of contract terms that should be considered for your cloud contract solution. This 10 page check list is a treasure trove of critical information for any cloud program manager and/or contracting manager.

All of this vital information has to be gathered, understood and analyzed before the contract can be agreed. How to build and finalize the right contract constitutes a large part of this book, with insight on all the clauses used by vendors – all the things you should know but they are unlikely to tell you! There are also samples to show how potentially harmful vendor clauses can be rephrased to your advantage.

The final step discusses managing the contract – how to ensure compliance, conduct audits and what to do in the event of data breaches or worse. Each step is accompanied by case studies, mistakes learned, best practices and checklists to ensure you stay on the right path. While the book itself is comprehensive, there is also a dedicated Website for people purchasing the book, which has much more reference information available and which will be kept updated.

Cloud computing brings a host of new challenges to those implementing it. It is no longer just the task of the IT manager to write the contract. Many other departments need to be involved from HR and security, to legal and financial, and, as a result, many decisions have to be taken at the highest level. Because of the complexities and diverse issues that cloud contracting encompasses, this is a must-have handbook for all those who need to get it right.

Our Readers Speak:

"Our agency made a major commitment to move to cloud. We had tons of reference material on contract terms but nowhere did we find anything like your book. It had a fantastic check list that was worth many times the price of the book. It walked us through the contracting process and gave us a roadmap of steps to follow. Many thanks, you saved us dollars, time and probably headaches."
IT Administrator, California County.

"All of our staff were newbies when it comes to putting a cloud agreement in place. Your book was the answer to our needs. Many thanks."
Deputy CIO, Federal Agency.
---
Fee:
Category
Book Price
S&H
Total
Federal, DoD, State,Local Government
(Must have gov't email address)
$54.50
$9.50
$64.00
U.S. Corporate and NGO
$59.50
$9.50
$69.00
International
$59.50
$50.00
$109.50


OR





For quantity purchases of 5 or more, please contact Customer Service at 941-306-7968 or Book.Service[at]GovernmentTrainingInc.com