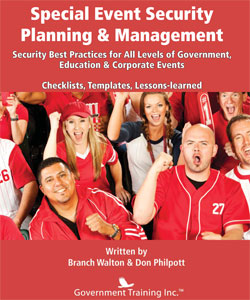 Special Event Security Planning & Management
All Hazards Security Best Practices for All Levels of Government, Education & Corporate Events

Checklists, Templates, Lessons-learned



By: Branch Walton & Don Philpott
Published by: Government Training Inc.

ISBN: 978-1-937246-79-2

Book Review: Special Event Security Planning & Management

Major special events are typically of regional and national importance requiring the input and assistance of multiple agencies. These larger events, which often include a variety of VIPs and political figures, are also potential targets for terrorists, criminals, and protestors. They require extensive planning, elaborate communication at many levels, and a comprehensive approach. Weather, major equipment failures, vehicle accidents are also dangerous factors that should be considered and plans developed.

However, the practices involved in planning and managing major events are the same as those needed for managing smaller events whether it is a state fair, local community celebration or a downtown parade. What might differ is the security measures needed.

The source of the danger is varied. High speed autos have torn into crowds. Viewing stands have collapsed. Ferris wheels have lost riders.

Further, terrorists used to go for hard targets – government buildings, military personnel and the like – but that is no longer the case. We have seen Chechen terrorists take hostages in a Russian school with deadly results. Packed trains have been bombed in Pakistan, and terrorists attacked Mumbai's main hotel and business district leaving 472 civilians killed or wounded.

Documents captured both in the U.S. and overseas show that the terrorists regard any target as a legitimate one, and a crowded public event would certainly allow them to kill and maim as many people as possible. That is why constant vigilance is of paramount importance and why event staff, especially security personnel must be trained to be the eyes and ears of both the law enforcement and intelligence community. Never ever assume "it won't happen to me." It might, and you must be prepared if it does.

Special Events Security consists of an easy to follow five-step process that covers everything you need to know and do to manage successful, safe and secure events. Packed with real case studies, best practices and checklists, it walks you through the entire organizational process from the first day of planning to post-event evaluation. There are detailed sections for law enforcement officials and for all others involved in planning or participating in a special event, no matter how big or small.

If you organize events or are responsible for their safety and security, Special Event Planning and Security is an invaluable handbook that you cannot afford to be without.

---
Fee:

Category
Book Price
S&H
Total
Federal, DoD, State,Local Government
(Must have gov't email address)
$54.50
$9.50
$64.00
U.S. Corporate and NGO
$59.50
$9.50
$69.00
International
$59.50
$50.00
$109.50


OR





For quantity purchases of 5 or more, please contact Customer Service at 941-306-7968 or Book.Service[at]GovernmentTrainingInc.com