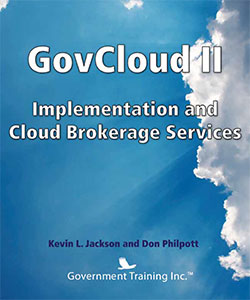 GovCloud II
Implementation and Cloud Brokerage Services


By Kevin L. Jackson and Don Philpott
Published by Government Training Inc.
Oct 2012

ISBN: 978-1-937246-41-9

---
Book Review: GovCloud II
The public and private sector have vigorously embraced cloud computing and its implementation is increasing efficiency and return on investment with significant savings in cost.

Implementation, however, has not been without problems which is why publication of GovCloud: Cloud Computing for the Business of Government last year was so timely. It contained an easy to understand five step process that explained what cloud computing is all about and what are the best options to meet particular needs. It discussed in detail all the latest developments in this area – from administration requirements to the search for industry-wide standards.

Now authors Kevin Jackson and Don Philpott have followed up this highly-acclaimed manual with GovCloud 11 – Implementation and Cloud Brokerage services, a handbook aimed at IT professionals and senior decision-making managers that outlines and explains an industry-leading approach to cloud transition and adoption.

Although the current hype around cloud computing has focused on expected cost savings, the true value is really found in the mission and business enhancements these techniques can provide, said Jackson, an acknowledged international expert in this arena.

When properly deployed using the most appropriate services, the cloud computing model provides greatly enhanced mission and business capability without a commensurate increase in resource - time, people or money- expenditures. Too often in the past Federal IT projects ran over budget, were behind schedule, or failed to deliver promised functionality, he said.

Many projects used "grand design" approaches that aimed to deliver functionality every few years, rather than breaking projects into more manageable chunks and demanding new functionality every few quarters. In addition, the Federal Government too often relied on large, custom, proprietary systems when "light technologies" or shared services exist.

The new cloud economic model radically changes the view of what's actually possible. Traditional IT procurement and provisioning processes have historically driven timelines associated with the delivery or fielding of improved information and data processing capabilities. Multiple threads of development, test, training and maintenance can also tax an organization's short- and long-term financial resources, said Jackson.

IaaS and Platform as a Service options (PaaS) can not only eliminate or limit capital expenditures, but can reduce or eliminate the expectation of operations and sustainment costs. The time required to realize mission or business value also is substantially reduced. With these differences, the impossible can suddenly become not only possible, but often can lead to new mission capabilities or brand-new cloud-enabled, revenue-generating businesses, he added.

Of particular interest are chapters on Cloud Planning, Provisioning and Management which focuses on cloud transition and adoption, and PaaS, which give readers an insightful and true understanding of the power of this platform.

Cloud computing is a new approach in the provisioning and consumption of information technology (IT). While technology is a crucial component, the real value of cloud computing lies in its ability to enable new capabilities or in the execution of current capabilities in more efficient and effective ways. This handbook tells you how and explains in details the options available to you.

Whether you are an IT professional tasked with developing or implementing an agency-wide cloud computing plan or a senior manager responsible for IT budgets, this is a reference book you cannot afford to be without.

---
Fee:
Category
Book Price
S&H
Total
Federal, DoD, State,Local Government
(Must have gov't email address)
$54.50
$9.50
$64.00
U.S. Corporate and NGO
$59.50
$9.50
$69.00
International
$59.50
$50.00
$109.50


OR





For quantity purchases of 5 or more, please contact Customer Service at 941-306-7968 or Book.Service[at]GovernmentTrainingInc.com